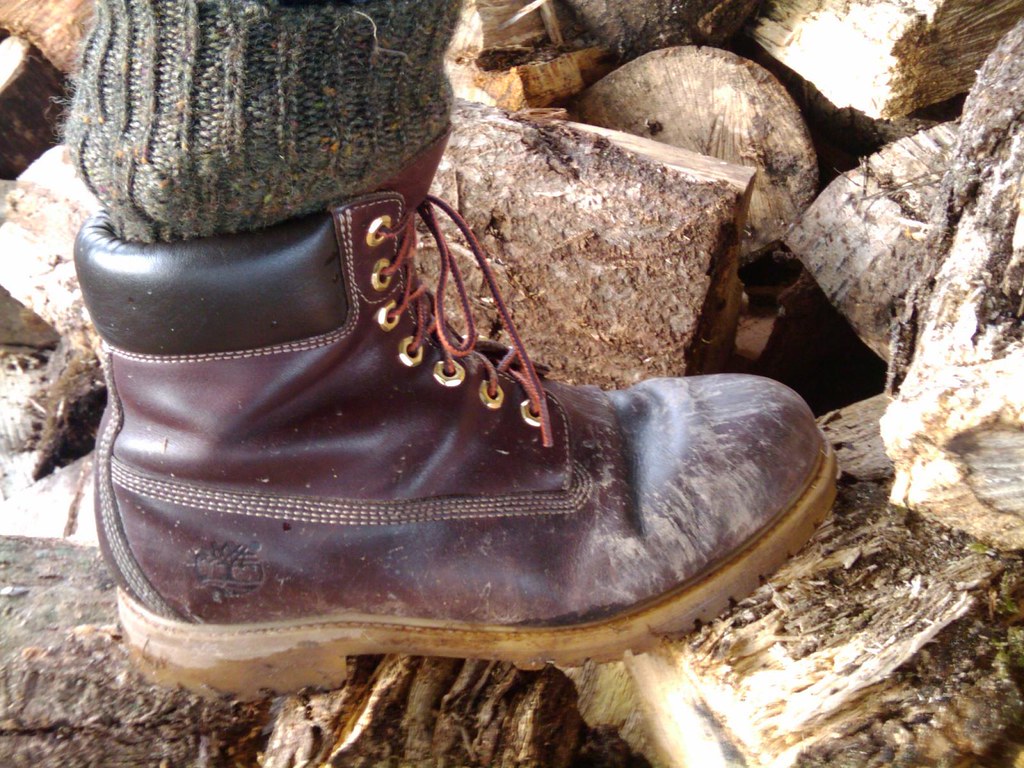 Best Hiking Boots for Ireland
You are living in Ireland or planning a trip on the Emerald Island  and you are hoping to make the most of the  amazing trails and hikes available there. Hiking is a fabulous way to connect with nature  but in Ireland, having sturdy, comfortable and waterproof hiking boots along with a good waterproof jacket is essential. There is nothing worst than blisters and wet feet when hiking up Tonduff mountain!
In Ireland, it can be very wet with mucky underfoot so waterproof hiking boots are essential. The terrain in Ireland can vary from sloppy soft bog and mud to razor sharp scree and rock.
The best hiking boots for Ireland would be a waterproof leather GORE-TEX® hiking boot with a good and stable ankle support.
I also recommend hiking boots with a sole with good grip. Make sure the sole has deep lugs. You can identify a good grip sole if it is a bit softer to the touch.
A good and durable pair of Hiking boots can be expensive and can cost from €150 to €250 or more. But at that price you will get a pair of of hiking boots that are comfortable, waterproof, reliable and should last for years.

Zamberlan 996:

Best overall Hiking Boots for Ireland
Our top Pick for  the Best Hiking boots for Ireland is the Zamberlan 996 (men's and women's) . These beautiful Italian made Hiking Boots  are the most suitable hiking boots for people wanting to travel to Ireland to go hiking and backpacking. They are full leather, they have a waterproof  and breathable GORE-TEX lining and they are amazingly comfortable. The all-terrain sole provide the all the grip you need on the rugged terrain of Ireland.
Our Top Pick for men & Women
The H on the item/label stands for "Half"
Exclusive Sole built for Zamberlan by Vibram
Last update was in: December 7, 2023 3:51 pm
Best for: Rough terrain & heavy backpacking
Category: Heavyweight
Upper: Full leather
Weight (Pair): 3 lbs. 8 oz. (1.58 kg)
Waterproof: Yes (Gore-Tex)
What we like: Beautifully designed and absolutely amazing  on rough terrain like the Irish mountains.
What we don't: Boots are heavier than most other boots
The Zamberlan 996 boot (which comes in men's and women's models) are handcrafted Italian Hiking boots with beautiful, specially treated,  waterproof single-piece full-grain leather upper. That single piece of leather means that there are less seams or stitching on the boot, therefore you don't have to worry about tears and rips and water leakage. This full leather upper  is very rugged and will protect you toes and your heels very well.
The Gore-Tex lining adds to the waterproof ability of the boot and also provides breathability. The tongues of Zamberlan 966 boots are fully padded and gusseted which relieve lace pressure across insteps while also keeping out trail debris.
TheVibram  3D rubber outsole deliver durability and reliable traction on rough ground. This outsole is firm and has deep wide lugs that provide good grip and easy cleaning. The shape of the outsole gives a rocking motion when walking to aid forward movement.The red parts of the lugs have a reverse tooth on them that gives you more stability and grip when climbing or downhill trekking.
Hardware and laces are all top quality as expected on an boot of this price tag.
The Zamberlan 996 boot is the perfect hiking boot for Ireland especially if you are going hiking every weekend or even several times a week.They are the  perfect boots for serious backpacking in Ireland. If you are looking for a great pair of hiking boots that is durable and going to last you very long , the Zamberlan 996 is what you need.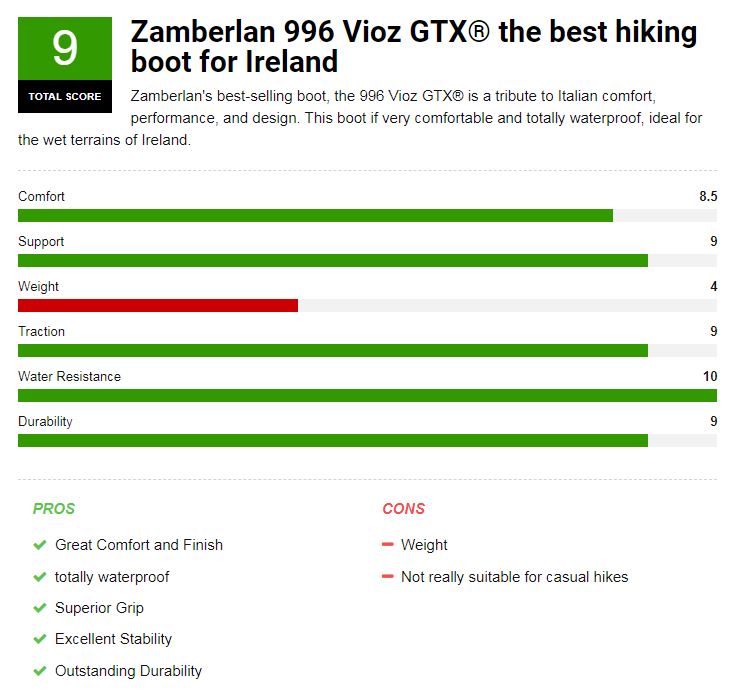 back to menu ↑
Salomon Quest 4D 3 GTX 
Runner up for men & Women
WATERPROOF BACKPACKING SHOES: Designed for maximum traction on mixed terrain, the Quest 4D 3 hiking boot features our 4D Advanced Chassis to help guide the foot & reduce fatigue, even on the roughest terrain.
Last update was in: December 7, 2023 3:51 pm
WATERPROOF BACKPACKING SHOES: Designed for maximum traction on mixed terrain, the Quest 4D 3 hiking boot features our 4D Advanced Chassis to help guide the foot & reduce fatigue, even on the roughest terrain.
Last update was in: December 7, 2023 3:51 pm
Best for: Avid Hikers and Backpackers
Category: Midweight
Upper: Nubuck leather/textile
Weight: 2 lbs. 13.8 oz. ((1.29 kg)
Waterproof: Yes (Gore-Tex)
What we like: Extremely comfortable out of the box but yet rugged and supportive.
What we don't: Exposed seams
The  Salmon 4D 3 GTX (which comes in men's and women's models too) is another hiking boot for serious backpackers. Like the Zamberlan above they are very rugged and ideal boots for serious hiking and heavy backpacking but on the plus side,  they are a good bit lighter than the Zamberlan.
The new updated model Salmon 4D 3 GTX  is amazingly comfortable. Many hikers have said that those boots don't even need  break in time.The wicking polyester linings  add to the comfort by absorbing and dispersing any excess moisture. The new aggressive outsole gives you fantastic grip and traction in just about all conditions.
It goes without saying that the Salmon 4D 3 GTX is waterproof. The boot is  nimble and flexible and  offer  great foot and ankle support especially when going downhill on the Irish Mountain. Other essentials features are available with the Salmon 4D 3 GTX such as an ample toe and heel protection, a gusseted tongue, a wide toe box, and a well-thought-out lacing system. The Contragrip rubber soles provided impressive traction on  terrain such as scree, rock and even ice.
On the con side, there are quite a few exposed seams on the boot that could lead to durability issues down the road.
The Salomon Quest is a great hiking boot , perfect for those who are going off-trail hiking  with steep climbs and descents. If you rather hike on well maintained trails like the Wicklow Way for instance  or the Glendalough Spinc hike, I would suggest to go for a lighter boot like the Salomon X Ultra 3 Mid GTX .
back to menu ↑
Lowa Renegade GTX Mid Hiking Boot
Other Best hiking boot for Ireland men & Women
GORE-TEX-bietet dauerhafte Wasser- und Winddichtigkeit bei optimierter Atmungsaktivität
Vibram Evo Außensohle bietet Dämpfung und sicheren Halt auf allen Untergründen
Thermoplastic polyurethane (TPU), abrasion-resistant and abrasion-resistant, resistant to water and oil and feet
Last update was in: December 7, 2023 3:51 pm
Leather hiking boot with logo accents featuring corded lace-up vamp and speed-lacing grommets at top
Padded tongue and collar
Waterproof and breathable Gore-Tex membrane
Breathable Climate Control footbed
Last update was in: December 7, 2023 3:51 pm
Best for: Hiking and  backpacking with moderate  loads
Category: Midweight
Upper: Nubuck leather/Cordura nylon
Weight: 2 lbs. 7 oz.
Waterproof: Yes (Gore-Tex)
What we like: Light  for its class and very comfortable. Offers great support.
What we don't: Durability could be an issue
Lowa Renegade GTX Mid (in men's and women's) are  very comfortable hiking boots, supportive and  very well cushioned.This extremely popular  hiking boot was first released in 1997 and has become and still is one of the world's best-selling outdoor boots.
As you well know now, comfort is very important for hiking boots and these Lowa Renegade GTX Mid boot are very comfortable right out of the box. They offer an excellent support too. The tongue came up high enough and gather underneath your ankle to keep it supported when you are doing rock scrambles, inclines and declines and hold your foot very very well. It also to prevents dirt from entering the boot.
The Lowa Renegade GTX Mid are definitely one of the best hiking boot for Ireland. The leather upper and the insulated insoles will keep your feet nice and warm. These boots are very sturdy and have great traction too even on loose rocks,  they are waterproof with Gore-Tex lining.
The only complaint I have about these boots is the number of seams and the thin enough nubuck leather that can possibly cause long term durability issues. But don't get me wrong, these boots are built to last longer than your typical lightweight boot.
Lowa Renegade GTX Mid are the best hiking boots  for day hiking and short-haul or weekend backpacking.I t has the look and feel of a traditional hiking boot at an impressively low weight.
back to menu ↑
Merrell Moab 2 Mid
Best Budget Hiking boot for Ireland
Waterproof membrane seals out water and lets moisture escape
Pigskin leather and mesh upper
Metal hook traditional lace closure
Bellows tongue keeps out debris
Protective toe cap
Last update was in: December 7, 2023 3:51 pm
Waterproof membrane seals out water and lets moisture escape
Pigskin leather and mesh upper
Metal hook traditional lace closure
Bellows tongue keeps out debris
Protective toe cap
Last update was in: December 7, 2023 3:51 pm
Best for:
Category: Lightweight
Upper: Suede leather/mesh
Weight: 2 lb. 4 oz.
Waterproof: Yes (M Select DRY waterproof membrane)
What we like: Best value for small budget, great it and very comfortable.
What we don't: Not as supportive for rough trails or heavy loads.
The Merrell Moab 2 Mid  Boot ((in men's and women's) from Merrell is a comfortable and supportive mid-height boot that features the M M Select™ DRY lining for excellent breathable, wet weather protection. The M Select™ DRY seals out water and lets moisture escape so you stay dry when you're on the move.
Perfect for light hiking and trekking it features a durable Vibram outsole that will offer sturdy grip over variable terrains and the protective toe cap offers extra protection to your toes and boot through those inevitable scuffs and accidental trips. The bellows, closed-cell foam tongue keeps moisture and debris out to help the out-of-the-box comfort experience last even longer.
The Merrell Moab 2 Mid are an excellent hiking boots for those newer to hiking or for those who do not want to overthink the boot-purchasing process. They are comfortable right out of the box, fit a wide range of foot widths, and are breathable and well-padded. There is nothing too revolutionary about these boots; it is their consistency that is their strong suit.
The downsides of the Merrell Moab 2 Mid hiking boots is probably the the lack of support compared to some of the more expensive hiking boots that you can see on this post like the Zamberlan 996 that are made for carrying a heavy load or scrambling on rocky or rough trails. Also the durability on those boots wouldn't be as long as the other models on this list.
But if you are a day hiker  that carry lightweight backpack that stay mostly to maintained trails like the Wicklow Way, the Dingle Way or any of the well maintained walking trails in Ireland , our top value pick is the Merrell Moab 2.
How to choose the best hiking boots for Ireland?
Choosing the best hiking boots can be a difficult task. The type of hiking boot you are going to invest your money in needs to sync with how and where you are planning to hike. If you plan to go hiking in Ireland, you are inevitably going to get some rain at some stage. Temperature are never too high, even in the summer (there are some exception , even in Ireland). So you might want to thing about water-resistance rather than breathability.
Some elements you will need to think about before you buy hiking boots:
Types : You have a dizzying array of choices, from ultralight trail shoes to mountaineering boots. But waht do you need  for Ireland? Hiking shoes or Hiking boots?
Components:  You  need to  understand about about what goes into uppers, lowers, midsoles, outsoles and other parts of a boot can help you refine your selection.
Fit: No one ever loved a pair of ill-fitting boots. The difference between blisters and bliss is taking the time to get a great fit.
back to menu ↑
Hiking shoes or Hiking boots for Ireland?
They are many different options available to you in terms of footwear. The choice of footwear will vary depending the difficulty of the hike and the time of the year.You need to make sure that what you wear on your feet is suitable for the terrain and type of weather you are going to encounter.
Hiking shoes or trail shoes for light walking
Trail runners or hiking shoes are fine for easy forest trails like the Djouce Woods trail or any flat walks. If the weather conditions are mild and dry and you are expecting to go through firm ground underfoot then you can consider wearing  hiking shoes. But hiking shoes or runners are definitely not suitable when crossing a wet slippy boggy area of Wicklow. Trail shoes won't give you the same high level of grip on rock, grass and boggy conditions that modern light-weight mountain walking boots do.
Hiking boots are essentials for Ireland high ground and mountains
If you want to go scrambling the hills of Ireland I would recommend some proper hiking boots that offer better protection to your feet and adequate  ankle support. Hiking boots might not prevent an injury, but they'll definitely help.
Leather hiking boots with sturdier soles will give you good traction and good protection from the rough or rocky terrain.
During the wet and cold winter in Ireland you will need good waterproof boots with good gripping soles. Slipping on wet ground can easily result in injury, and wet feet in winter will leave you feeling uncomfortable and cold.
It is essential to wear hiking boots for all the "moderate" and "difficult" hikes you can find on Hikesneardublin.com  which will lead you on hillsides and more demanding mountain routes.
And don't forget to break in new boots.
Those new boots might feel very comfortable in the shop the first time you wear them, but I guarantee that they need to be properly broken in before you use them. Wear your new hiking boots at home for few hours.  This will loosen up the upper a bit and mold the inside of the boot to your feet.  I would advise to take a half or full size bigger for hiking boots than for you day to day regular shoes.
A good pair of warm and comfortable hiking socks can make all the difference between an enjoyable hike and an uncomfortable one. Avoid cotton socks at all cost as they tend to retain the moisture on your feet which will lead eventually to blisters. Your best bet is to wear a pair of woolen hiking socks that will wick away moisture to prevent blisters.
back to menu ↑
Hiking Boot Parts
Upper
The upper part of an hiking boot is the external part of the shoes above the midsole. The upper can be made from different type of materials. The most common would be leather/suede or synthetic and mesh.
As you can guess, a full grain leather hiking boot will last longer than a synthetic hiking boot. However, a leather hiking boot is heavier then synthetic boot.
For a country like Ireland, I would recommend a full leather hiking boot rather than a synthetic boot.
This material offers great durability and abrasion resistance . It is also the best waterproofing material. Full-grain leather hiking boots are ideal for backpacking with heavy loads on your back on rugged terrain. On the down side, leather hiking boots can be heavy and are not as breathable as synthetic boots.To get the best of leather hiking boots you need to look after them and clean them properly after each hikes. Mud sucks moisture from leather as it dries, leaving your boots' leather less pliable and speeding up its aging process. Some leather hiking boots like the the Zamberlan 996 can be re-soled, so you don't need to replace the whole boot once you wear down the lugs.
Nubuck is made of full-grain leather that has a brushed finish like suede. You find a lot of mid range hiking boots in this material. A boot made of Nubuck would be lighter and more breathable than a full   grain leather one but is not as durable as its construction is thinner.  But saying that, a Nubuck hiking boot would be more durable than most synthetic boots. Scuff-marks wouldn't be  as much noticeable on a Nubuck hiking boot as they would on a full grain leather hiking boot.
Synthetic Nylon and Mesh:
  You can usually  find this type of synthetic materials in cheaper hiking boot models. Synthetic nylon and mesh hiking boots are lighter and more breathable than leather boots  as the fabric can absorb moisture .This helps keep your feet cool in warm weather. They are also often comfortable right out of the box or at least require less breaking time than a leather boot. The downside is that they are less durable than more sturdy hiking boots.
Midsole
The midsole is a layer of fabric between the foot-bed and the outsole that provides cushioning to your feet by absorbing shocks and by protecting from sharp objects under foot.The stiffer the boot, the more comfort and stability you are likely to get on rough or rocky terrain. The most common midsole materials are EVA (ethylene vinyl acetate, cushier and lighter) and polyurethane (firmer and more durable).
Outsole
The outsole is the layer of rubber found at the bottom of the hiking boot designed to provide traction and grip. The lugs are the bumps under the sole which give the traction. The heel brake is the clearly defined heel zone that is distinct from the forefoot and arch. It reduces your chance of sliding during steep descents. Vibram®  is  probably the best known and recognized  rubber outsoles maker for hiking boots. They give the best grip and traction. Those Vibram outsoles are made off stiffer and denser type of rubber which is a mix of rubber, silicone and carbon.
Waterproof membranes:
Waterproof hiking boots have uppers made of waterproof  and breathable membranes like Gore-Tex® or eVent® that keep your feet dry in wet conditions. Waterproof hiking boots are necessary in Ireland. The disadvantage is the reduced breathability created by a membrane that make your feet sweat on summer days.
Vibram
Vibram®  is one of the most recognized producers of rubber outsoles for hiking boots. They offer exceptional grips and traction. Vibram soles are made from a mix of rubber, carbon and silicone and are stiffer and denser than other types of rubber.
Heel & Toe Bumpers
The purpose of heel and toe bumpers is to protect your toes and heels from knocks, which is particularly important on rocky terrains. Heel and toe bumpers also protect the boot from damage so they last longer.
The Tongue
Hiking boot tongue are often padded and provide support and comfort but also impact cushioning on tough terrains.  It protects the top of the foot from the pressure of the laces.
back to menu ↑
How to Buy Hiking Boots
Your hiking boots are going to be the most important item as part of your hiking gears. The most important features of a pair of hiking boots are comfort, support and protection of your feet. Remember that you need to break in your new hiking boots before you use them for your hiking trip.
Shop late: It is best to try on hiking boots at the end of the day when your feet are swollen. This is how they will feel after a day hiking.
Try different brands and sizes: Manufacturers use different shaped lasts for various reasons. Your feet will feel better in some than others; pay attention to how the contours of the footbed work with the contours of your feet. Take a half or full size bigger for hiking boots than for you day to day regular shoes.
Find a slope: Try your new hiking boots on an incline. Most stores have a sloped board for this purpose. Make sur e you foot does not slide forward. If so, you  you'll be losing some toenails!
Spend time: Walk up and down the aisles, no shame.
Lighten up: In general, get the lightest shoes that are appropriate for the terrain and load. Excess weight on your feet leads to fatigue and soreness.
Weather condition in Ireland
Regardless of when you undertake the journey it is essential to be aware of the expected weather conditions each day. If your journey is at any time from late Autumn to early Spring bear in mind the significantly increased likelihood of unfavorable weather. This can include high winds, heavy rain or sleet and sometimes snow blizzards. Any of these when coupled with the significantly smaller number of daylight hours, can provide the ingredients for an exceptionally challenging undertaking.